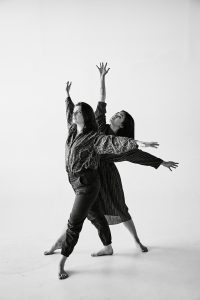 March 18-19, 2022 @ 8pm

Take Root at 
Green Space
37-24 24th St., Suite #211
Long Island City, NY
Tickets: $17 online, $20 at the door
Building on an aesthetic of female-centric, physically charged and collaborative dance works, The Moving Architects under Artistic Director Erin Carlisle Norton presents their first new work since the Pandemic. Looking at the physicality of polarities – strength/fragility, bound/free, stability/instability, direct/indirect intention, touch/no touch – the company's latest two works are grounded in the physical explorations of the states that the company has embodied and navigated this last year.  "O my soul" explores grief from historical and contemporary perspectives, and "The Vibe" evokes the joy and release of moving in space as a reaction to the confines of the last two years.  Wearable and moveable props and evocative sounds scores add texture, imagery, depth and nuance to both dance works.
Choreography: Artistic Director Erin Carlisle Norton in collaboration with the dancers
Dancers: Bethany Chang, Emily Cicio, Michaela Esteban, Zoe Kaplan, and Kalyan Sayre
Costume Props: "The Vibe" by gwen Charles, "O my soul" by Erin Carlisle Norton with thanks to Jaimie Froemming and Liz Hobbs
"O my soul" and "The Vibe" was supported by the For the Artists! Residency Program at MOtiVE Brooklyn. The Moving Architects also gratefully acknowledges that this production was made possible in part through a residency grant offered by SMUSH Gallery, Monira Foundation, and Mana Contemporary.
Please Note: In accordance with the NYC mandate, all visitors age 12 and older must be vaccinated against COVID-19. Please be prepared to show or submit valid proof of vaccination. Upon arrival for a performance, valid proof of vaccination and a legal form of identification must be shown at our box office for admittance. Acceptable proof of vaccination includes a copy of your vaccination card or another government-issued vaccination record. We will work with individuals who require religious and/or medical accommodations. Masks are required indoors for all visitors, regardless of vaccination status.
photo: Whitney Browne