MOVERS & SHAPERS:
PODCAST No.98 – Alla Kovgan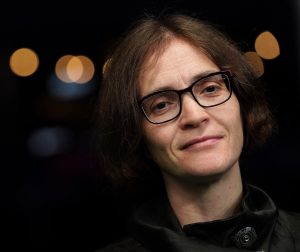 Release Date: 4.9.20
TO DOWNLOAD PODCAST OR LISTEN:
ABOUT ALLA
Born in Moscow, Kovgan has divided her time between Europe and the U.S., bringing two decades of experience working with dance and film on screen, VR and in theatre, as well as a strong record as a documentary writer and editor. Her film NORA, about Zimbabwe-born choreographer Nora Chipaumire, has been presented at over 120 festivals, received 30 awards in every genre, and was broadcast on ARTE/ZDF, PBS, TV3 (Spain), NRK (Norway) and SVT (Sweden). Within the last decade, Alla co-directed, co-wrote and edited an Emmy®-nominated TRACES OF THE TRADE (Sundance, PBS) and MOVEMENT REVOLUTION AFRICA (ZDF/ARTE), which the Village Voice described as a "knockout." Alla also edited MY PERESTROIKA (Sundance, PBS, Silverdocs, Full Frame). Her first VR piece with Finnish music duo Puhti DEVIL'S LUNGS won numerous awards, including the Grand Prix at the Vienna Shorts Festival, which made her an artist-in-residence at Vienna's Museum Quarter 21 in 2019.  She is a recipient of many grants and awards, including a Poynter Fellowship at Yale University, a Bogliasco Foundation Fellowship, a Massachusetts Cultural Council Fellowship, and the Brother Thomas Fellowship for artists working at a high level of excellence and creativity.
ABOUT CUNNINGHAM FILM
Cunningham traces Merce Cunningham's artistic evolution over three decades of risk and discovery (1944–1972), from his early years as a struggling dancer in post-war New York to his emergence as one of the world's most visionary choreographers. The documentary weaves together Merce's philosophies and stories, creating a visceral journey into his innovative work. A breathtaking explosion of dance, music and never-before-seen archival material, Cunningham is a timely tribute to one of the world's greatest modern dance artists.
More info:
Kinodance Company (Alissa Cardone, Dedalus Wainwright): kinodance.com
Trailer: www.cunninghammovie.com
"Cunningham" 3D Film: www.cunninghammovie.com
Purchase DVD:  Amazon.com
Podcast produced by: The Moving Architects
Interviewer: Erin Carlisle Norton
Theme Music: Adam Crawley whose music can be found at djplie.com
This podcast episode is in partnership with JAM.  JAM is the home of dance entrepreneur Jessica Marino, providing artist management services and industry shopping. jamdancer.com, networking for dance and bringing ideas to the spotlight.