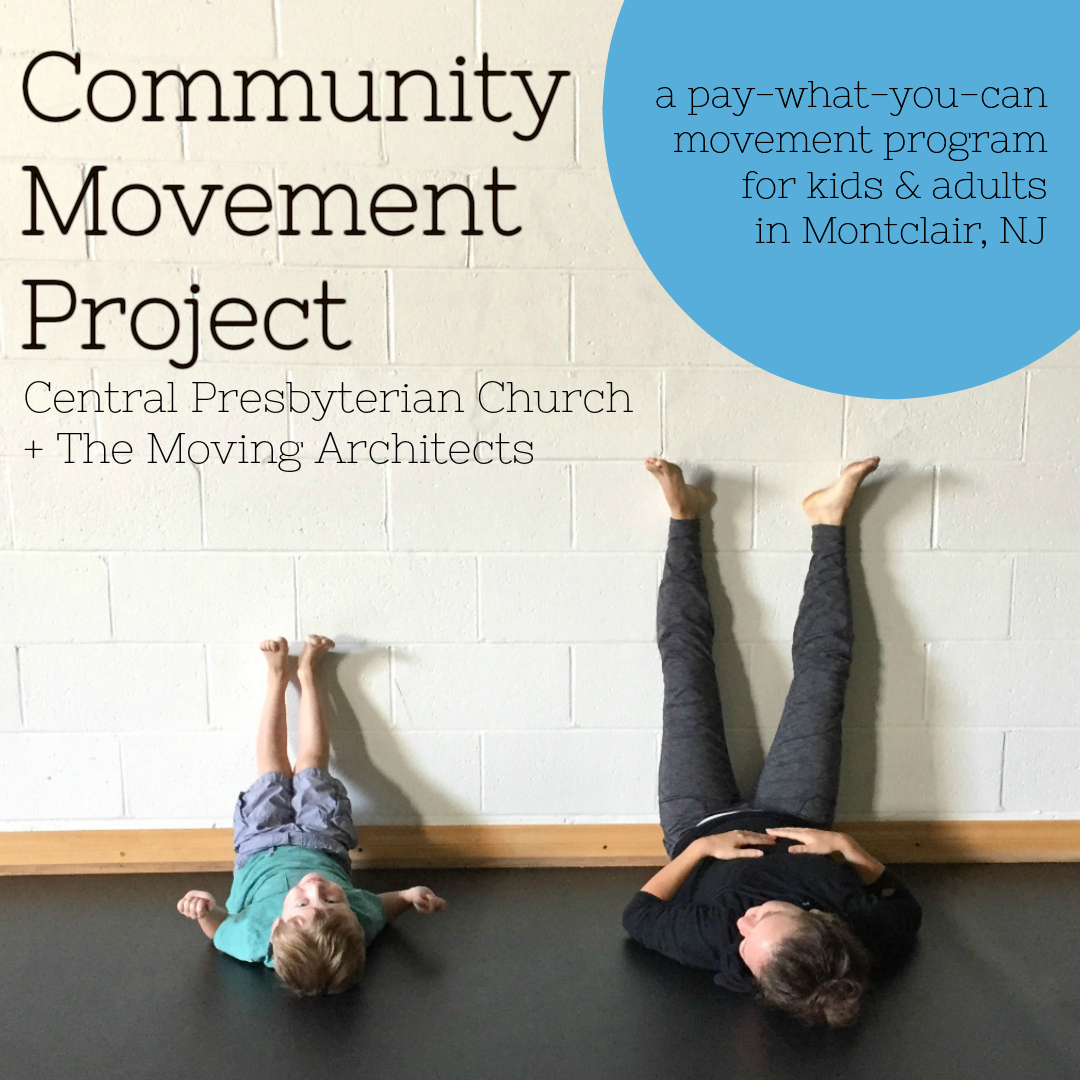 COMMUNITY MOVEMENT PROJECT
a pay-what-you-can movement program for adults + kids
May-June 2018, returning Fall 2018!
brought to you by:
The Moving Architects + Central Presbyterian Church
3 week series for select classes: JUNE 11-JUNE 29
Central Presbyterian Church
46 Park Street / Montclair, NJ
All Classes are Pay-What-You-Can!
Classes Instructed and Led By: Erin Carlisle Norton
>>Suggested Donation:
$15/per adult class, $10/per kid class
>>RSVP Required with Links below! Class size limited!
ADULTS: Pilates/Barre Blend
Monday:
>>10:00am-11.00 / RSVP HERE!
Includes Free Childcare!
>>9:45am-11:15 / RSVP HERE!
For Pilates/Barre Blend classes, please wear comfortable work-out clothing and have socks or barefeet.  Yoga mats will be provided or you may bring your own.  Classes take place in the Central Presbyterian Church Community Room.
PILATES/BARRE BLEND CLASS DESCRIPTION:
In Pilates/Barre Blend, each class will work to balance, lengthen, strengthen, and stretch the entire body, with an emphasis on challenging the core muscles with each movement. Exercises draw from the Pilates Method and Barre Exercises and include props such as bands and balls.
KIDS: Creative Movement
Tuesday:
>>4:00pm-4:45pm, ages 3-7 / RSVP Here!
Friday:
>>3:30pm-4:15pm, ages 4-8 / RSVP Here!
For Creative Movement classes, please have kids wear comfortable clothing and kids will be barefoot.  The nearby church lounge is available for Parents/Caregivers to remain during class.  Classes take place in the Central Presbyterian Church Community Room on Tuesdays and in the Nursery on Fridays.
CREATIVE MOVEMENT CLASS DESCRIPTION:
Creative Movement is a joyful way to explore movement, develop physical skills, explore elements of dance, channel energy, stimulate imagination, and promote creativity. Creative Movement uses body actions to communicate images, ideas, and feelings, all in a fun and encouraging class setting.
MORE ABOUT ERIN:
Erin brings to the Community Movement Project over 15 years of experience as a professional dancer, choreographer, administrator, and movement educator. Erin has a BFA and MFA in Dance from The Ohio State University, a Graduate-level Laban Certificate in Movement Analysis from Columbia College Chicago (CMA), and is a Certified Pilates Instructor through Pilates Method Alliance and FromtheCenter Pilates Studio and Barre instructor from TotalBarre training. A Pilates Instructor since 2005, Erin has taught Pilates at studios, gyms, and academic settings throughout Chicago, Columbus (OH), Rehoboth Beach (DE), and currently in Northern NJ.  As a dance instructor, Erin has taught kids through adults in professional, academic, and community settings throughout the Midwest, NYC-area, and East Coast, and on international tours in Morocco, Guatemala, and Central Asia.  Erin formed the all-female dance company The Moving Architects in 2007 as a non-profit dance organization that teaches and performs regionally, nationally, and internationally and also produces the dance interview podcast Movers & Shapers: A Dance Podcast.